Church Information
Please find here regular updates from the Deacons and worship leaders
CHURCH MEETING 23rd June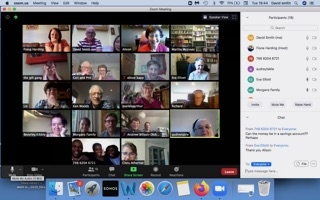 Recently the C U Church Redevelopment Committee addressed the challenge of finding the suitable architects to take charge of the revision of the church's buildings. With the essential help of Chris Atherton the tender was put out to a number of architects and Caroe and Partners were finally chosen.

As with all decisions within the church, the Deacons needed to put this proposal to the Church Meeting, which consists of every church member. Normally the Church Meeting is held in the sanctuary, but with the building shut, there was an anxious moment concerning the rubric and whether a meeting cd be held under differing circumstances. Eventually permission was given for the meeting to be held on line or by post. Every possible method was used to alert members to the issues around the decision and in the end the responses were considerably more numerous than at a normal meeting.

The decision of members was overwhelmingly for the adoption of Caroe and Partners, for various reasons, chiefly that they were prepared to work on the project during the virus lockdown so that the momentum of the project was maintained and also that the architects made broad proposals which challenged everyone to 'think outside the box', the box being the limitations of our imaginations.

The overall result was a feeling of excitement that the building will be transformed to reflect the needs of the community and will react to the changing circumstances of a post-pandemic world.

The picture shows a proportion of the church members participating in the on-line meeting on 23rd June.